From Wikipedia: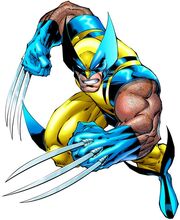 Wolverine is a fictional superhero that appears in comic books published by Marvel Comics. The character first appeared in Incredible Hulk #180 (October 1974) and was created by writer Len Wein and Marvel art director John Romita Sr., who designed the character, and was first drawn for publication by Herb Trimpe. A mutant, Wolverine later joined the X-Men's "All New, All Different" roster in Giant-Size X-Men #1 (May 1975). X-Men writer Chris Claremont played a significant role in the character's subsequent development as well as artist/writer John Byrne, who insisted on making the character older than the other X-Men. Frank Miller also helped to revise the character in the early 1980s with the eponymous limited series in which Wolverine's catch phrase, "I'm the best there is at what I do, but what I do isn't very nice", was first written.
Born James Howlett and commonly known as Logan, Wolverine possesses animal-keen senses, enhanced physical capabilities, retracting bone claws, and a healing factor that allows him to quickly recover from virtually any wound, disease or toxin. This healing ability enabled the supersoldier program Weapon X to bond the near indestructible metal alloy adamantium to his skeleton and claws. Wolverine was typical of the many tough anti-authority anti-heroes that emerged in American popular culture after the Vietnam War; his willingness to use deadly force and his brooding nature became standard characteristics for comic book anti-heroes by the end of the 1980s. As a result, the character became the clear favorite for fans of the increasingly popular X-Men franchise.
For Wolverine Sculpts, see:
Ad blocker interference detected!
Wikia is a free-to-use site that makes money from advertising. We have a modified experience for viewers using ad blockers

Wikia is not accessible if you've made further modifications. Remove the custom ad blocker rule(s) and the page will load as expected.