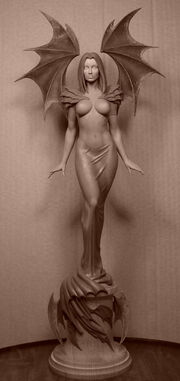 December 30, 2008 - Bowen Designs comes in with sneaks of a Cable Mini-Bust and finalized paint shots of the Angel FS, Batroc MB and Mojo MB.
And the final word on the Ultron FS at the moment is this, straight from the Bowen Designs website:
"Some of you may be aware of the difficulties that we've been experiencing with the Ultron statue. The factory is having difficulty in matching the paint-job that was originally previewed.
Because of this situation, we are halting production at around 800 pieces (the orders we received were originally 1500 pieces). We're anticipating cancellations because of the situation.
The good news is that the paint is not as grey as currently shown. The silver color is now actually closer to the finish of the recent Silver Surfer action pose statue.
If collectors were hoping for a more chrome look, we urge them to cancel their orders at this time. We're very sorry for any inconvenience that this may have caused."
Hard Hero has begun taking pre-orders for the companion piece for their recent Conan statue. Belit: Queen of the Black Coast is coming soon!
Also, pics of a WIP by the name of Dark Ivory have surfaced from Moore Studios. Fantastic! Clayburn Moore knows women like no other...
--Chromesamurai 00:00, 31 December 2008 (UTC)
---
December 10, 2008 - Sorry for the sparse updates. Moved again, new job, etc. Keeps me busy. Note that Sideshow now has orders up for a PF Obi-Wan, Jedi Knight, a Spider-Man 'Back in Black' Comiqette and an Adam Hughes inspired Black Queen, with a preview image for the upcoming Captain America Legendary Scale Bust.
On the Bowen front,
Randy
just unveiled a few new pics of the Red Hulk and Maestro versions of the new Hulk statue. Amazing! He stated the breakdown for the different versions, in order of most produced to least:
1) Green/Kirby-esque Hulk 2) Planet Hulk 3) Red Hulk 4) Maestro Hulk 5) Grey Hulk (w/orange shirt)
And the Ultron FS has had to be delayed due to a problem with the overseas factory's paint job. Randy is apparently looking to get this done elsewhere, but it delays the release of this piece by a lot.
--Chromesamurai 21:51, 10 December 2008 (UTC)
---
October 11, 2008 - Bowen Designs introduces a new BDCC Exclusive: Total Blue Quicksilver!
--Chromesamurai 05:37, 11 October 2008 (UTC)
---
October 9, 2008 - Big news for Resin Wiki! We've scored an exclusive interview with the head of Bowen Designs, Randy Bowen! Check it out by clicking HERE!
--Chromesamurai 16:13, 9 October 2008 (UTC)