From Wikipedia: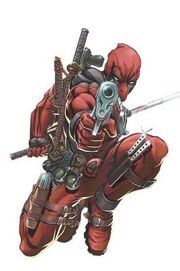 Deadpool is a fictional comic book character sometimes depicted as a mercenary or anti-hero; who appears in books published by Marvel Comics, usually in the X-Men family of titles. Created by artist Rob Liefeld and writer Fabian Nicieza, Deadpool first appeared in The New Mutants #98 (February 1991).
Nicknamed the "Merc with a Mouth", Deadpool is a high-tech mercenary known for his wisecracks, black comedy, and satirical pop-culture references. Like the X-Men's Wolverine, Deadpool is the product of the Canadian government's paramilitary Weapon X program, although his place of birth is unknown. After Weapon X cured his terminal cancer by implementing a regenerative "healing factor" extracted from Wolverine, Deadpool is left disfigured and mentally unstable.
For Deadpool Sculpts, see:
Ad blocker interference detected!
Wikia is a free-to-use site that makes money from advertising. We have a modified experience for viewers using ad blockers

Wikia is not accessible if you've made further modifications. Remove the custom ad blocker rule(s) and the page will load as expected.