Bowen Designs Constrictor MB
Edit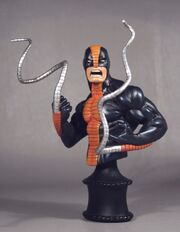 The 186th Mini-Bust in Bowen's Marvel line, the Constrictor was sculpted by Ryan Trificana with assists by Randy Bowen.
Another home run, as far as I'm concerned. The figure has tight, clean anatomy that isn't overdone. Very true to the character. Ryan Trificana should be a Bowen Designs mainstay. The overall sculpt fits in perfectly in the Bowen style.
The pose fits really well for the character, utilizing his signature vibranium coils. The decision to use bendy rubber instead of resin like the rest of the sculpt ensures that they won't snap off. The downside is that if you aren't good at making them look like they flow, the coils can look goofy and bent. My only problem with the coils as they are is that using that type of rubber method cause the bits to have a little extra flash here and there and a few unsightly "double holes." Not a big deal on the shelf, but they might bother some people. Very conservative on space, since you can do what you want with the coils.
The satiny black paint looks classy, and apps in and around the mouth look pretty good. Nothing is overly shiny. Only problem here is with the horizontal lines that go across the orange part of his costume. On close inspection, they're a little sloppy and inconsistent. Some lines are thicker than others, and some stray outside of the carved line. Mine has a section on his collarbone where you can see the airbrush overspray from the orange seep onto the black section and the attempted correction. The paints look fine from 2 or 3 feet away, but the orange sections fall apart any closer than that. Might just be mine, but take a look at this area before you buy if you think it'll bug you.
Really plain base. Little bit of a rope motif with some snake scales at the very top part. I would have liked it if they used the idea they had in the Sneak Peeks with the python wrapped around the base, crushing it, but I can't fault the base for what it could have been. Simple, functional, and it doesn't draw the eye away from the character.
Despite the paint inconsistencies, which may or may not be on all the pieces, this bust is still great. It's done with the care and attention to detail that make Constrictor look like a more important character. Should find a nice home in any collection.
On a scale of 1-5:
1 - Avoid!
2 - Look but don't buy!
3 - Buy, if you're a fan of the character.
4 - Buy, it'll look good in any collection!
5 - Phenominal piece! A Must-Buy!
Bowen Design's Constrictor Mini-Bust is a:
4 - Buy, it'll look good in any collection!
Chromesamurai 03:25, 12 February 2008 (UTC)