Hulk Variable FS
[[Image:

|320px]]
Hulk Variable Full Size Statue
Company:
Bowen Designs
Height:
Edition Size:
undetermined
Sculptor:
Randy Bowen
Release Date:
undetermined
Series Number:
Phase 4 - Statue # undetermined
Original MSRP:
undetermined
Additional Notes:

This article depicts a sculpt or design in an unfinished state. The final product may or may not differ from what is shown.
This is not the Hulk Museum sculpt that was mentioned as being planned. This one will be listed as Hulk Variable until more definite finished pieces are Sneaked.
This sculpt is allegedly the basis for several variants encompassing most of the Hulk versions. Randy has mentioned the plans at this moment are for:
Kirby Hulk
Smart Hulk
Planet Hulk
Red Hulk
Maestro
and possibly 70's Hulk.
This piece does, however, hinge on the Marvel license extension being approved.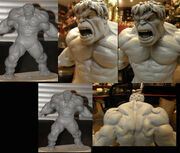 Ad blocker interference detected!
Wikia is a free-to-use site that makes money from advertising. We have a modified experience for viewers using ad blockers

Wikia is not accessible if you've made further modifications. Remove the custom ad blocker rule(s) and the page will load as expected.